Another protest in Norco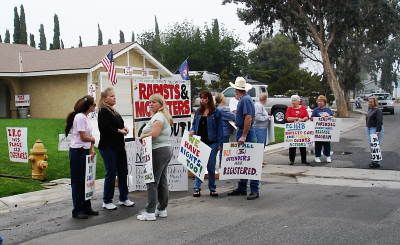 Norco had another protest today, attended by a couple of dozen concerned citizens.
They are trying to prevent a group home from opening in their neighborhood, but the state may have already snuck some people into the home.
I have more research to do on the Norco situation, but look at this little gem in the California penal code:
Penal code 1618. The administrators and the supervision and treatment staff of the Forensic Conditional Release Program shall not be held criminally or civilly liable for any criminal acts committed by the persons on parole or judicial commitment status who receive supervision or treatment. This waiver of liability shall apply to employees of the State Department of Mental Health, the Board of Prison Terms, and the agencies or persons under contract to those agencies, who provide screening, clinical evaluation, supervision, or treatment to mentally ill parolees or persons under judicial commitment or considered for placement under a hold by the Board of Prison Terms.
Translation: If one of the people they stick in your neighborhood attacks you, tough luck!
More on this later, stay tuned.
Comment

Email to a friend
---