Convicted child molester Vanessa Teicher moves out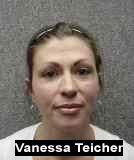 Vanessa Teicher
, convicted and sentenced on 2/19/03 of lewd acts with a child under 14 years old and unlawful intercourse, has moved out of the Last Chance clown house and now resides in Hayward, CA.
It is interesting timing as the 3 year restraining order preventing her from making any contact, even via telephone, with her ex-husband and 3 children, just expired.
Try to keep you hands off the little kids in Hayward Vanessa.
Comment

Email to a friend
---