Day 187 - Recap
Today we started protesting at 4 pm. We like keep the child molesters and rapist guessing.
Some protesters went up to our property beside the halfway house to protest. We could see the rolling death maching in back of the clown house. It looks like they are going to load all the debris from the demolished trailer into the trailer of this truck.
If anyone from Idaho is missing a truck, we know where it is.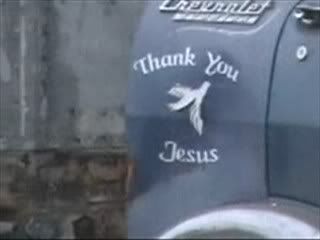 An RSO (Riverside County Sheriff's Office) vehicle drove up the dirt road beside our property but quickly turned around a left. Odd's are they got a call from the clown house, who knows what the people in the halfway house of child molesters tells them we are doing.
Harriet Cooks left in her Expedition, but not before taking the time to flip off a teenage girl on the other side of the road. Maybe she was not flipping her off, maybe she was telling her she was number one on a list of potential victims.
After it was dark (it gets dark now at 5:30) and we were all back down on Old Elsinore, we saw a patrol car drive up the dirt road and onto our property. It had its search light on, probably looking for us. Better luck next time. We are sure the community appreciates all the time and effort the Riverside County Sheriff's Department puts in to keeping those dangerous soccer moms off the streets.
That's all for now, keep your kids safe from the child predators.
Comment

Email to a friend
---