Day 213 - Recap, I had my picture taken with Dokich!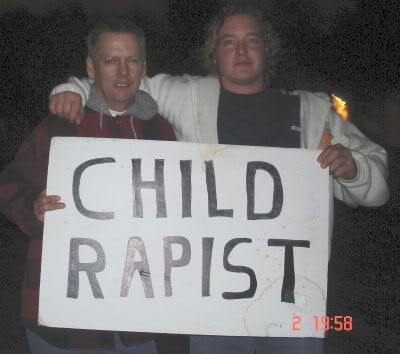 No no no, not the high risk sex offender
David Allyn Dokich
, I had my picture taken with Ryan Dokich, a direct descendant of Dokich. I am not using the word 'son' because Ryan does not consider Dave Dokich to be a father to him.
Well I got a bit ahead of myself, lets backup. Months ago it was planned that Ryan would come to our protest. And you thought I couldn't keep a secret...surprise!
Unfortunately all did not go as planned. The train Ryan was on struck and killed a bicyclist leaving San Diego. We had planned for him to be at the protest at 3 pm but because of delays he did not arrive until after 6 pm.
The media that was there, the Press Enterprise and some independants, had to leave before Ryan arrived. My apologies to you guys that it did not work out as planned.
Everyone was very happy to finally get to meet Ryan. His uncle who came with him has been to the protest before. I'm not going to use his name here just to play it safe.
Ryan was taking it all in and kept saying "awesome". I don't think my words or pictures can accurately portray what the protest is really like. Ryan finally got to experience it.
Just before 7:30 pm Dirty Dave Dokich arrived in his Ford Taurus. Protesters were walking back and forth along the road and across the entrance to the halfway house. Dirty Dave did not like that.
Two units from the Riverside County Sheriff's Department arrived a scant 15 minutes later. 15 minutes! It's incredible the level of service RSO will provide you if you are a child rapist. To bad the honest folks have to wait hours when they call.
Ryan got on a bullhorn and was yelling at Dokich, saying he should be back in prison. We went up to our property beside the clown house. Dokich did not have the courage to come out to see his own boy. The man is a coward pure and simple. He could abuse Ryan's mom and smack Ryan around when he was a baby, but now that Ryan is a man Dokich doesn't even have the guts to face him.
It was a great night, everyone was excited and pumped up. We are thankful Ryan was able to make it all the way out here.
Without giving anything away, let me just say that it may not be the last time Ryan comes to protest against Dokich.
See you next time and keep your kids safe from all the child predators parole is placing near children.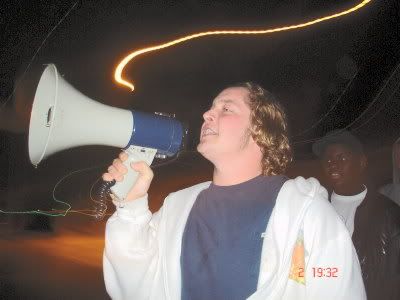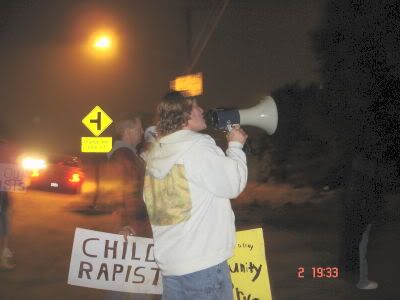 Comment

Email to a friend
---