Bogh Introduces Reforms For Sex Offenders Parole Process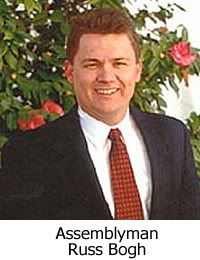 Current law gives the benefit of the doubt to sexual offenders
1/12/2006
For Immediate Release
CONTACT: Laura Ortega
916-319-2065
Sacramento – Assembly Republican Caucus Chair Russ Bogh has introduced legislation which will provide law enforcement with more tools to keep sex offenders behind bars.
Under current law, sex offenders must first be referred to the State Department of Mental Health for evaluation by two independent evaluators. A petition to keep a violent sex offender in prison shall only be filed only if both independent evaluators determine he should not be paroled.
Assembly Bill 1841 will require the filing of the petition if one of the two evaluators determines the offender should be paroled.
"AB 1841 provides District Attorneys with a valuable tool in the fight to keep sexual predators behind bars," stated Bogh. "Current law gives the benefit of the doubt to sexual offenders. AB 1841 will allow District Attorneys to err on the side of the public's safety and give them the tools necessary to fully and completely review whether or not parole should be granted."
Bogh has been working on this issue with the Riverside County District Attorney's office since last year when David Allyn Dokich was paroled to Riverside County. Dokich had twice been convicted of rape and his evaluators disagreed on his parole. On January 4th, Dokich violated terms of his parole and is now back in custody.
"Assemblyman Bogh's legislation will help us to keep dangerous sex offenders like
David Dokich
behind bars and out of our neighborhoods," stated Riverside County Deputy District Attorney Rod Pacheco. Pacheco prosecuted Dokich for the 1987 kidnapping and rape of a 16 year old girl.
Source:
Click here
Assemblyman Bogh represents Moreno Valley, Hemet, Yucaipa, Perris, San Jacinto, Banning, Twentynine Palms, Beaumont, Menifee, Calimesa, Big Bear Lake
Comment

Email to a friend
---