Child molester / former priest being released from prison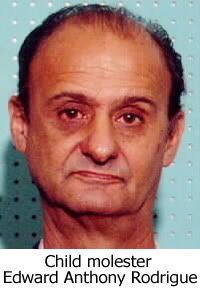 Edward Anthony Rodrigue
, a former priest from the Inland Empire, accused in lawsuits of molesting at least 19 altar boys, is due to be released from prison next week to a downtown San Bernardino halfway house, according to the Press Enterprise.
Rodrigue, a twice-convicted child molester who once told police he abused dozens of boys during his 20 years as a Catholic priest. He is scheduled to live in a group home in a decaying residential neighborhood along Interstate 215.
The former priest has no plans but is excited about his scheduled Jan. 25 release from a state prison near Corcoran, said his brother, Tom Rodrigue.
"I still have a lot of concerns about his release because he is a pedophile, and he'll be a pedophile until he dies,"
said Tom Rodrigue, who visits his brother monthly in prison.
"There is no cure for it, and I just hope that he basically stays in a halfway house with other adults and he is never around kids."
The former priest has been told that upon his release, he will be fitted with an ankle bracelet equipped with a GPS monitoring device so parole officials can track his movements, his brother said.
"He told me he thinks it's going to be tough," Tom Rodrigue said. "I agree with him, but it's like if you're an alcoholic, you take it one day at a time and you cope as best as possible. I keep emphasizing to him that his coping is staying away from kids."
Click here
to read the Press Enterprise story.
Comment

Email to a friend
---