Day 262 - Recap, the Barbara Stanton Show
Joe from Phelan, Julie from Corona, 'Molly' and your very own fearless blogger were guests on the
Barbara Stanton show
.
We had so much to share that the 2 hours felt more like 20 minutes.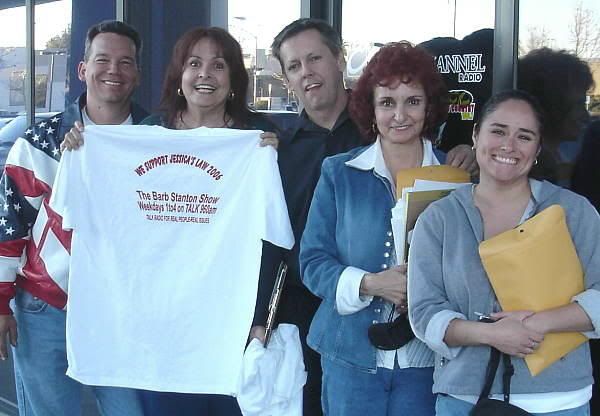 We all had a chance to speak live on the air about what we have been going through. Barb was really shocked to hear about our ordeal and all the lies people in parole like Lisa Abma tell. She got a real kick out of the videos, especially the '
Lisa Abma Gone Wild
' video. She thought I did a great job reporting. Thanks Barb!
You know, people in parole may try to lie but the camera doesn't. They are used to getting away with these things, but those days are over.
Joe had a bunch of Jessica's Law / Barbara Stanton Show t-shirts made. They are incredible, Joe went way above and beyond this time, thanks Joe!
Barb is fantastic and truly cares about helping make our communities safer. We thank her for the opportunity to tell our story and look forword to working with her in the future.
Comment

Email to a friend
---