Edward Anthony Rodrigue release worries victims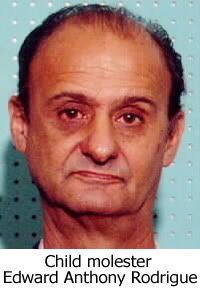 EX-PRIEST: Two men ask that dioceses issue warnings about Edward Anthony Rodrigue.
11:30 PM PST on Tuesday, January 24, 2006
By MICHAEL FISHER / The Press-Enterprise
A former Inland priest accused in lawsuits of molesting at least 19 altar boys is due to be released from prison today, raising the concerns of two accusers and prompting a national victims' group to ask two Southern California bishops to warn their flocks.
Where the 69-year-old Edward Anthony Rodrigue will live remains in flux. The twice-convicted child molester was to move into a downtown San Bernardino halfway house, but the group home has no vacancies, said his brother, Tom Rodrigue.
Parole officials have arranged for Rodrigue to live at an undisclosed San Bernardino motel instead, his brother said.
Tom Rodrigue, who worries that his brother will abuse again, said parole agents intend to fit the former priest with an ankle bracelet equipped with a GPS device to monitor his movements. Edward Rodrigue will also begin therapy, something that wasn't available in prison, Tom Rodrigue said.
Edward Rodrigue's release worries Jacob and Pat Olivas, brothers who are suing the Diocese of San Diego, claiming Rodrigue molested them in the late 1970s when they attended St. George Catholic Church in Ontario. The San Diego Diocese managed Inland parishes until 1978.
"It's not forgive and forget. I forgive, but it's never going to be forget," said Jacob Olivas, 36, adding that he holds no ill will toward Rodrigue. "I can't really blame him for what he did. It's like blaming someone who has schizophrenia for doing something that they can't control."
Pat Olivas said Rodrigue poses a threat to children.
Click here
to read the complete article.
So it looks like those knuckleheads in parole are intentionally hiding this serial child molester. People in San Bernadino need to know where he is so they can take precautions.
Comment

Email to a friend
---