High School teacher caught in predator sting operation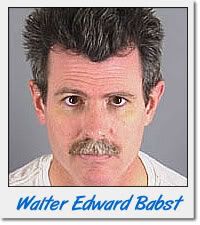 B
a
ck on
January 14th
I wrote about the sting operation conducted between
perverted-justice.com
, Dateline NBC and the Riverside County Sheriff's Department.
During the 3 days they caught 50 creeps, perverts, guys apparently wanting to have sex with what they thought was a 14 year old girl.
According to the Riverside County Sheriff's Department and the
LA Times
, one of the people caught was Walter Babst.
What does Walter do for a living? He is a a teacher at
Bonita High Schoo
l in La Verne.
He has since been removed from the
staff page
.
A look at the
page saved on Google from Dec. 10th 2005
shows him though.
The good news is he was caught. The bad news is according to the
Daily Bulletin
he was able to go back to work, at Bonita High School, for a week before school officials were notified.
Comment

Email to a friend
---