Paroled child molester held on various charges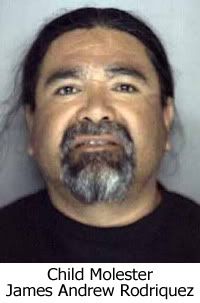 I have been following this case since last year when I was tipped off that child molester
James Andrew Rodriquez
was able to remove his GPS device without authorities knowing it.
What was the secret to his success? He melted it.
Sources tell me he was able to do this in a fashion that left the device working. He was then apparently able to move about for months without authorities knowing his true whereabouts.
It seems that anyone who bothered to check his location via the GPS device (did anyone bother?) did not find it odd that he had not moved from his trailer on an Indian reservation in San Diego county for months.
So, where was Rodriquez going?
To the home of Elizabeth S. Thompson, Ph.D..
What's so special about that?
Well Elizabeth was his therapist and helped get him released from Atascadero State Hospital. Reports are Elizabeth, his therapist, had a thing for him.
What did the good doctor find so special about the child molester? You can read it for yourself, just
click here
.
Rodriquez is now being held on charges of failing to register, possession of firearms and arson (for melting his GPS device).
Click here
to read the most recent Press Enterprise article.
Comment

Email to a friend
---