Fallout continues after Parole exposed in 'Sex Offender Shuffle'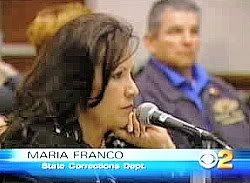 David Goldstein's
'Sex Offender Shuffle'
story is really shaking things up.
Tonight state legislators, including Todd Spitzer, met in Norwalk and began their investigation into who is to blame for registered sex offenders being moved around and hidden by parole agents to avoid being listed on Megan's Law.
Maria Franco, chief deputy parole administrator of the L.A. office, claims she was told by L.A. regional administrato Mark Epstein to move the sex offenders every 4 days. Epstein denies it but has since resigned his position.
Subpoenas may be issued in the next couple of weeks for
Rod Hickman
, Secretary of the Department of Corrections and Rehabilitation, and other high ranking members of Corrections.
Now get this. On Monday Goldstein found some of the very same sex offenders living in a motel in El Monte, again violating state law by being to close to an elementary school.
Click here
to watch the video
Comment

Email to a friend
---