Group warns church of child molester priest's release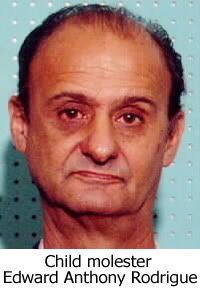 BARSTOW -- An advocacy group passed out leaflets Sunday in front of St. Joseph's Catholic Church, warning parishioners that convicted child molester and former priest at the church,
Edward Anthony Rodrigue
, was released from prison Jan. 26.
Known to most as "Father Tony," Rodrigue, 69, was a priest at St. Joseph's in the early 1970s. He served eight and a half years of his 10 year prison sentence for sexually assaulting a mentally disabled 11-year-old Highland boy in 1997, at an apartment complex where he worked as a janitor.
But that was not Rodrigue's first offense.
Mary Grant, right, of the Survivors Network of those Abused by Priests, distributes leaflets Sunday to Carlota Sanchez, and her daughter Karina Sanchez, 7, parishioners at St. Joseph Catholic Church. The leaflets warned that a former priest at the church and convicted child molester, Edward Anthony Rodrigue, was released from prison on Jan. 26.
In 1979, Rodrigue pleaded no contest to sexually assaulting an Ontario boy, and was placed on three years probation. In 1992, Rodrigue voluntarily resigned from the priesthood.
Click here
to read the complete story.
Comment

Email to a friend
---