Perverted Justice releases portions of Laguna Sting Chat Logs
The good folks over at
Perverted Justice
have released portions of the chat logs from the sting operation they ran with Laguna Beach Police.
One of the reasons they post these logs is so that you parents out there can see for yourselves the techniques perverts use to try to lure children via the Internet.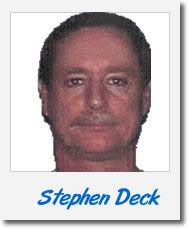 They normally wait until the court cases are over but they have made an exception and posted the logs of Robert Alarcia, Benjamin Taul and CHP Lieutenant Stephen Deck.
Below is a portion of Deck's chat log, he uses the name 'south_calif_46m':
south_calif_46m (4:23:59 PM):No bf at school?
Decoy Name (4:24:05 PM): no
south_calif_46m (4:24:30 PM):I hope things work out
Decoy Name (4:24:47 PM): me 2
south_calif_46m (4:24:57 PM):I'd luv to date you
Decoy Name (4:25:20 PM): yea
south_calif_46m (4:25:36 PM):mmm
south_calif_46m (4:26:10 PM):Just tell any kids that see us I'm your dad and I'm visiting
Decoy Name (4:26:21 PM): ok
south_calif_46m (4:26:32 PM):or uncle or whatever
south_calif_46m (4:26:38 PM):Wish I was your daddy
Decoy Name (4:26:49 PM): realy?
south_calif_46m (4:26:55 PM):Oh heck yes
south_calif_46m (4:27:00 PM):In a heartbeat
Decoy Name (4:27:05 PM): why
south_calif_46m (4:27:24 PM):

I just like that daughter /daddy thing
Alright, that was gross. Deck likes the 'daughter / daddy' thing? Does this pervert have kids of his own?
It's not pleasant reading, but I urge you to take a few minutes and read for yourself how predators use the Internet to get to children.
Click here
to read the chat logs.
Comment

Email to a friend
---