Registered sex offender Gregory John Karnos out on bail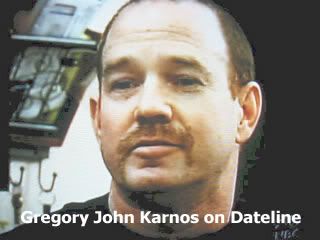 Remember
Gregory John Karnos
? He was one of the registered sex offenders busted in the Dateline NBC / Perverted Justice / Riverside County Sheriff's Department sting operation.
Karnos has been charged with penal codes 288a and 664.
288a is any lewd or lascivious act upon or with the body, or any part or member thereof, of a child who is under the age of 14 years, with the intent of arousing, appealing to, or gratifying the lust, passions, or sexual desires of that person or the child.
288a is a felony and is punishable by imprisonment in the state prison for three, six, or eight years.
664 is when someone attempts any crime, but fails, or is prevented or intercepted in its perpetration.
In simpler terms, Greg Karnos has been charged with attempted child molestation.
So why is Karnos a registered sex offender?
Back in 1999 Gregory Karnos was convicted of lewd acts with 7 children ages 15 years and younger. According to Dateline he was hanging out near schools, such as Sierra Vista High School in Baldwin Park, and playing with 'Mr. Happy' in full view of the kids.
Greg Karnos was sentenced to a year and a half in prison and 5 years probation.
So, given his latest charges and his past, where is Greg Karnos now?
Who knows, he is not in custody because he made bail.
Comment

Email to a friend
---