Sex offender on parole attacks two women near Riverside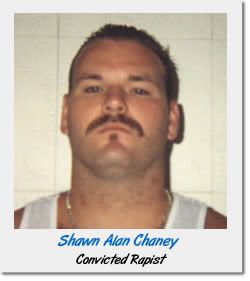 Two women were attacked during two separate incidents today according to police.
At around 12:30 pm, a woman told Moreno Valley PD officers that she fought off an attack near Alessandro and Perris boulevards. She says the attacker held a box cutter to her throat and told her to take off her clothes. This brave woman fought back and the pervert fled in a truck.
Just before 1 pm, another woman told police that she fought off an attack near the Riverside Community College campus. She says the attacker approached her as she waited at a bus stop. This brave woman also put up a fight and the pervert again fled in a truck.
Soon after that a Riverside County Sheriff's Department helicopter spotted a truck matching the description of the perverts on Perris boulevard in Moreno Valley.
In the truck they found a box cutter and one
Shawn Alan Chaney
of Moreno Valley. Shawn Chaney is on parole for a previous conviction of raping a drugged victim.
Chaney is being held at the Robert Presley Detention Center in Riverside on charges of PC 209(a) - kidnapping. This can carry a life sentence without the possibility of parole.
Let's hope this pervert is removed from society for good this time.
Comment

Email to a friend
---