Update: Charles Carlton Harding, accused of attempted child molestation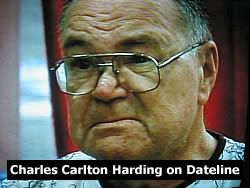 Charles Carlton Harding is one of the notorious "Riverside 50" busted during the Dateline NBC / Perverted Justice / Riverside County Sheriff's Department sting operation involving Internet luring.
On the Dateline NBC "To Catch a Predator III" show Charles said he like to read a book about having sex with children and he thought is was O.K. to come over and "cuddle". He thought he was meeting a 13 year old boy, he sure seemed suprised when Chris Hansen from Dateline walked into the room.
In addition to attempted child molestation, "Mr. Cuddles" has also been charged with multiple counts of having child porn.
Authorities raided his home after his arrest and found it on his computer. Don't tell Mark Leno, he probably thinks it's O.K. since it was for 'personal use'.
Harding was in court today, but not by choice. His bail has been set at $500,000 and he has not been able to bond out.
We will keep you updated on his court case.
Comment

Email to a friend
---