Update: Michael James Burks, DHS special agent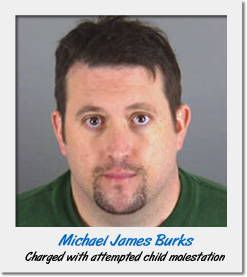 Michael James Burks is one of the notorious 'Riverside 50' busted during the Dateline NBC / Perverted Justice / Riverside County Sheriff's Department sting operation.
You may remember him from the show, he was a special agent with the Department of Homeland Security.
Burks has plead not guilty to attempted child molestation and was supposed to have a felony settlement conference today. However, his attorney asked for, and was granted, a continuation.
We will keep you updated.
Comment

Email to a friend
---