Update: Peter Christopher Moore, accused of attempted child molestation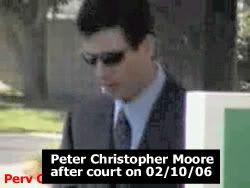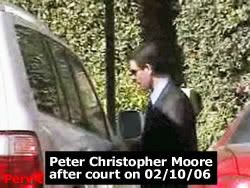 Chris Moore, full name Peter Christopher Moore, is one of the notorious "Riverside 50" busted during the Dateline NBC / Perverted Justice / Riverside County Sheriff's Department sting operation involving Internet luring.
On the Dateline NBC "To Catch a Predator III" show Chris said he was a background actor in such films as Pearl Harbor, Godzilla and Never Been Kissed.
According to Dateline, Chris Moore thought he was meeting a 13 year old boy for sex and sent pictures of his own genitals over the Internet.
You gotta feel for whoever it was at Perverted Justice that had to see that.
Chris has been charged with attempted child molestation and sending porn over the Internet with the intent to seduce a minor.
Christopher Moore made a court appearance today for his arraignment. Our exclusive Perv Cam caught some pics of him.
Chris Moore's attorney is
Lawrence Longo
. He has an interesting past.
Longo used to be a deputy D.A. in Los Angeles. He was fired for his handling of a 1992 assault case involving rap music mogul Marion "Suge" Knight. Some believe Knight had ties to the murder of Notorious B.I.G..
According to the California Bar Journal
, Knight signed Longo's 18-year-old daughter to a $50,000 recording contract with his label, Death Row Records, and lived in a Malibu Colony home owned by Longo's family while the deputy D.A. was overseeing Knight's case.
According to Court TV
Longo's daughter, Gina, became the first white recording artist signed by Death Row Records.
Peter Christopher Moore is out on bail. We will keep you updated as his court case progresses.
Comment

Email to a friend
---