Gregory John Karnos taken into custody today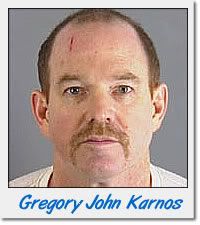 Gregory John Karnos
, one of the perverts that was busted in the Dateline NBC / Perverted Justice / Riverside County Sheriff's Department sting operation in January, was taken into custody today at court.
Karnos is a registered sex offender. Because he has 2 prior felony convictions the DA's office asked that his bail be increased to $1 million dollars. Judge Schwartz agreed and Greg Karnos was taken into custody on the spot.
This looks like the 3rd strike for Greg.
Karnos is next scheduled to appear for a felony settlement conference on April 14th.
Comment

Email to a friend
---