Jury trial set for Alvin Hall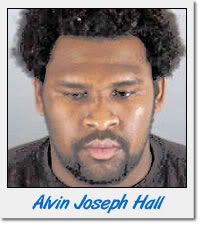 Alvin Joseph Hall Jr. is one of the guys busted in the Dateline NBC / Perverted Justice / Dateline NBC sting operation in January.
Alvin has pled not guilty to charges of attempted 288(a).
288. (a) Any person who willfully and lewdly commits any lewd or lascivious act, including any of the acts constituting other crimes provided for in Part 1, upon or with the body, or any part or member thereof, of a child who is under the age of 14 years, with the intent of arousing, appealing to, or gratifying the lust, passions, or sexual desires of that person or the child, is guilty of a felony and shall be punished by imprisonment in the state prison for three, six, or eight years.
His trial by jury has been set for April 24th, 2006.
Comment

Email to a friend
---