What do Inderjeet Singh and David Allyn Dokich have in common?
Inderjeet Singh was one of the Internet Perverts caught duing the Dateline NBC / Perverted Justice / Riverside County Sheriff's Department sting operation into Internet luring.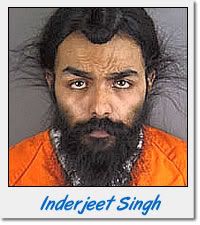 You may remember this conversation Inderjeet had with Dateline NBC's Chris Hansen:
Inderjeet Singh:
"Well, you can talk, you can converse, but it doesn't mean that I'm going to do it, unless you catch me at one point doing it."
Hansen:
"So you say I would have to catch you having sex with a 13-year old girl before you could get in trouble."
Singh:
"Before you can put me against the law, yeah."
Inderjeet went from all smiles to no smiles when he was arrested as you can see in the shots below.
So what do High Risk Sex Offender
David Allyn Dokich
and Inderjeet Singh have in common, other than an apparent predilection towards teenage girls?
They both have the same high powered defence attorney, Virginia Blumenthal.
Virginia defended Dokich during his second rape trial here in Riverside. Now she is defending Inderjeet Singh.
Virginia's website
says they "
use psychiatrists, forensic experts, and testimony to call into question evidence and the state of mind of the accuser.
"
That's fancy talk for attacking the credibility of the victim.
Let's hope that, like in the case of David Allyn Dokich, Virginia Blumenthal fails and Inderjeet ends up behind bars.
Comment

Email to a friend
---