Jessica's Law signature drive today in San Jacinto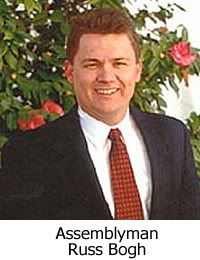 Assemblyman Russ Bogh
continues his
Jessica's Law
signature drive today.
Assemblyman Bogh will be collecting signatures to qualify Jessica's Law (the Sexual Predator Punishment and Control Act of 2006) for the November 2006 ballot.
Free fingerprinting services will be provided for all parents who wish to have their children fingerprinted.
WHEN: Saturday, January 21, 2006
9am – 1pm
WHERE: Youth Basketball Day
Valley Wide Recreation Center
901 W. Esplanade
San Jacinto, CA
Assemblyman Bogh represents the 65th Assembly District, which includes portions of Riverside and San Bernardino counties.
For all of our readers in the San Jacinto area, get over there and help get Jessica's Law on the ballot.
---